For my 5 year anniversary with my husband, I decided to go a little outside of the box- Windstar cruises offered a cruise off the coast of Italy, France and Monaco with a two day stop over for the Formula 1 race! Now, my mother-in-law went on a Viking cruise a year prior, and said that most of the people on her cruise were retired. While we don't mind being with people of different ages, we were wanting to go with something a little different. This cruise caught our eye because it was a small boat, so very little time on onboarding which means you can stay in the cities longer. We were able to eat dinner, and go out on the town with most nights having a midnight boarding call.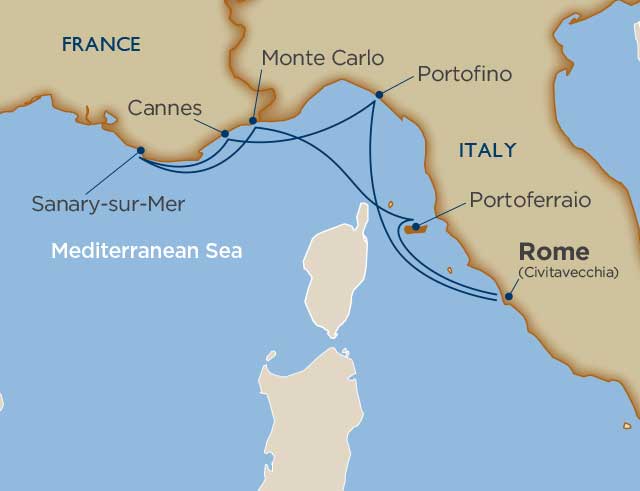 Booking
We booked through Windstar, and there were multiple people on the cruise who booked through a travel agent. I am not sure which would end up better- we looked into a Viking cruise and they offered airfare for an extra $100. If it were me, I would get quotes from a travel agent and the company before booking. Also, there are two boats that go for the race. The Wind Surf is the one we were on and the cheaper one. It is a much smaller boat, which we preferred- we literally drank champagne in the hot tub as we drove off from every magical place because so few people were on the cruise.  The smaller boats can also go into ports that the bigger ships can't go to, so that is another benefit of this cruise line.
If a person has no dreams, they no longer have any reason to live. Dreaming is necessary, although in the dream reality should be glimped. For me, this is a principle of life.
Ayrton Senna- Formula one racecar driver
Cruising
We left out of the port of Rome, which is deceiving. It is actually quite a distance from the Rome airport so plan accordingly. You get there and wait to board. Once you board, you are in vacation mode with a glass of champagne and pictures. You go through everything about safety, etc. and they offer you a drink package. We did the package, because we drink a good amount, but it would probably not average out if you don't drink much. The benefit of the drink package is that on this small boat, they know the ones with the package by day two, and they will just bring you your favorite drink. I love that personal touch!
Our room was small, but nice. It had a king size bed which was great. The port hole was just above water- not much to see. It didn't bother us, because we were out on the town most of the time, or at send off on the early days, we were at the outdoor bar, but for those that like a ton of privacy, there was not much of that. We treated the cruise as a traveling hotel room, where we were out in the day and only stayed on at night. The rooms were the same no matter if you are in the bottom or the top- if I had to do it again, I would go with a lower floor room, save the money and go on an extra excursion instead.
Ports
The ports can change, and did in our case. If the water is really choppy, they will move you around. That makes it tough to plan anything on land other than through the cruise. We went through the cruise for the excursions, and they will plan the adventures at the new port if they can.
Portofererraio
It is a small island off the coast of Italy, and it beautiful. It has a few cute restaurants and shops, and depends solely on the cruise ships coming in. With the beauty, we did a bike and kayak excursion. The water is so beautiful as all of the base is white rock. If you want to sit at a little coffee shop and hang, you can, but you would want to plan an excursion for this site as there is not a ton to do.
Cannes
This can be a place where you skip an excursion and go on your own. There is so much to do here! The restaurants and shopping are fabulous, along with the boat and people watching. The sunsets are beautiful. We spent the day out and went to a fancy dinner at the Ritz overlooking the bay. We went in the casinos, although if you are used to American casinos, you will be disappointed. No card games other than an occasional table of black jack.
Genoa
Our boat was rerouted (along with all other boats- the water was pretty crazy) to this spot instead of Portofino because of the weather. The boat knew that people were sad- they rented charter buses and took everyone to this site there where they had cooking classes and let us explore the town. It was really nice- the one thing you need to remember is the boat is small. You see the same people over and over again. That is not good or bad- its just a taste level. Many of my friends that have gone on the larger cruise ships say they feel it is very impersonal. If that is a con of cruises for you, this would be much better. The other thing is that if you don't want to see them over and over, the hospitality dinners are easy to skip.
Monte Carlo
For this cruise in particular, it was spectacular. The race was here, there was only 4 ships in the water for the race, two of them were Windstar and two were from German cruise lines. You can hear the engines of the cars from the boat. The people that booked through the travel agent had special passes to see the race from a fancy hotel. My husband and I just bought ours from a ticket broker online. You have to share the tender (small boat that takes you to shore from the big boat) with both cruises, and the wait was really never more than 10 minutes. The town is so packed that sometimes it is better to get back on the boat to get lunch. There was an event planned at one of the casinos if you booked through the cruise. We didn't so we wandered and mingled and people watched. It truly was a once in a lifetime experience. We looked up hotels in Monaco- it was cheaper to go on a 7 day cruise than it was to get a hotel for two nights in Monaco. And the boat was docked overnight, so it was a solid two days in Monaco.
Portovenere
This was one worth doing an excursion. This stop you were able to get off the boat, shop a little, and have a local tour guide take you by bus and train to Cinque Terre. She was extremely knowledgeable and helped us navigate the trip. Cinque Terre is absolutely breathtaking, but there are many pickpockets on the train, so its nice to go with someone who knows what they are doing. It is like no other place in the world. Since it is just a day excursion and it takes some time to get there, you don't get quite as much time as you would want, but it was well worth the trek.
Overall, I would highly recommend this cruise. The food is great, service is amazing, and you really don't have to be on the boat that much if you don't want to be.  If you are looking into a longer adventure, the Autobahn club left this cruise and rented Porsches to drive through Germany as soon as this cruise was over. Because people have a difficult time taking a full month off work to do that too, this particular boat ended up being mainly people that had retired. It didn't really bother us as thrity somethings, but something to note. We will definitely take another cruise in the future!