Rome is the hub for history and beauty. There aren't many businesses in Rome, so you will see many tourists. If you love history, this is a city for you. If you are someone that likes to be around a ton of locals, not necessarily the place.
Because Rome has so many tourists, you would be very surprised at how much food is not authentic and instead frozen. If you are sitting eating pizza at a café overlooking a monument, you are probably getting something non-authentic. One of my favorite spots is outside the Pantheon. The Pantheon is spectacular, and at any given time there are people just sitting eating sandwiches in the square right outside. The food isn't any good, but it is a perfect stop for cappuccino. Sit and enjoy the atmosphere.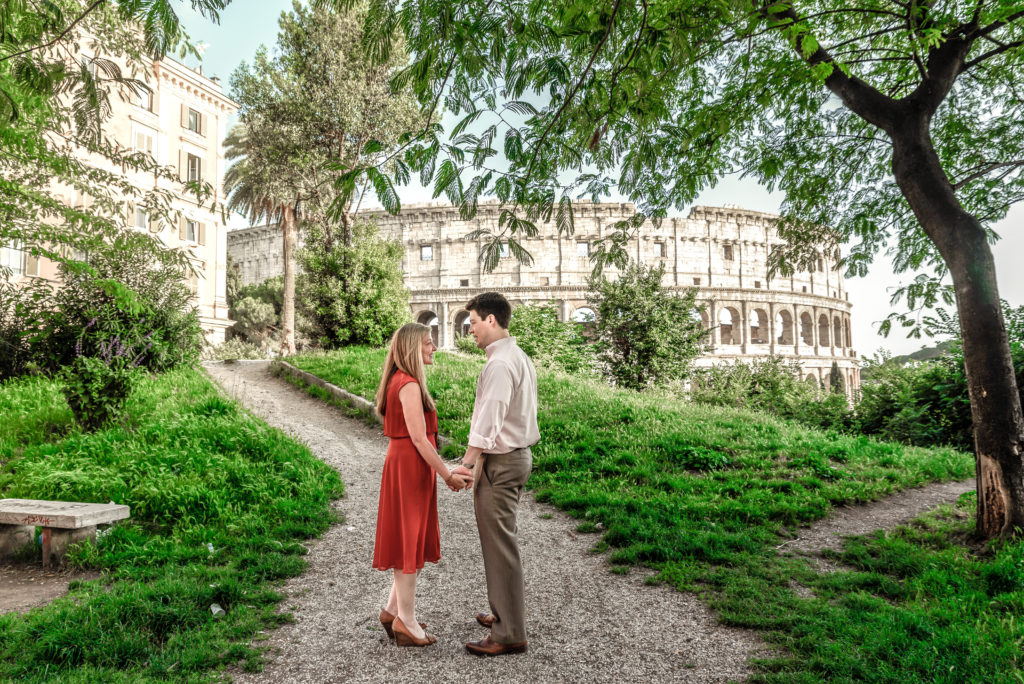 Shopping
The first time I went to Rome, I hired a shopping guide that took us to shops around town. I have since tried to look her up- she no longer has a website. But she took us to stores where runway shoes that were worn once were for sale, and some truly authentic Italian made items. You have to be careful in Rome- much of what you see is made in China. Look for items actually made in Italy.  The great thing about a guide is that is also served as a regular tour guide. You would cross items and she would tell us the history. I personally found that I like anyone local. Our photographer in Rome was from Ireland. While she was really nice, she wasn't able to tell us much about the history of Rome. If you can't tell, I hire a photographer in each city we go to. The pictures are my favorite souvenir. I wrote a blog on that if you are interested as well.
Twenty years from now you will be more disappointed by the things you didn't do than by the ones you did do. So throw off the bowlines. Sail away from the safe harbor. Catch the trade winds in your sails. Explore. Dream. Discover.
Mark twain
The Vatican
I have been to the Vatican many times, and each time I learn something new. Each tour guide goes over different things. I have been on one of the cheap Viator tours, and with the amount of people in the Vatican and information to cover, that is absolutely sufficient. The Vatican affects people in different ways. The art is spectacular, seeing all of the Cardinals walk around and know this is a major thing for them is pretty amazing too. In our groups, you have people that have studied Catholism- I  have been on tours where people cried. Most of the tour guides are humorous,  so even if you are like me and not extremely religious, you get info out of it. It is absolutely a must-see no matter what your faith or background.
Many tourists are surprised that, but it's a fact: the Gothic Parliament, topped with Big Ben, is a new building, created in the 19th century. It is just stylized the same like old, burned-out building. The majority of tourists come to Westminster to see the most famous sights of London: The Parliament, the Big Ben, Westminster Cathedral and Buckingham Palace, as well as the famous Royal Parks.
For a trip 4 metro stations are suitable: "Westminster", "Charing Cross", "St. James" and "Green Park". "Westminster" station is located directly opposite the Big Ben, and for going to Buckingham Palace, the best station is "Green Park". There are a lot of tourists, the subway is always crowded, sidewalks, streets, cafes and parks – as well. There are not many cafes in Westminster, restaurants even less, and they are concentrated mainly where many tourists.
Restaurants
My first time in Rome, it was our last night there. We asked our hotel for a good final choice for restaurant- one that would send us out with a bang. We got in a cab and he took us to this place off the interstate that was TERRIBLE. Not only was it terrible, but it was in a place where we were worried we would not get a cab back.  We asked him to turn around and take us back to where we started. We were defeated.  We felt like pretty woman when she tried to buy a dress and they turned her away. We walked into a hotel that was fully booked for dinner. The person at the front desk could see our frustration, and said he had a car coming for us, and was going to take us somewhere great. It was like we had been rescued. The car showed up, and took us to the Hassler Hotel. There was a woman waiting downstairs to walk us to the restaurant. She took us upstairs, and took us to a seat right in front of the window overlooking the entire city. We opened the menu- took say it was pricey was an understatement. It is a Michelin star restaurant, so think of Top Chef type food. We looked at it, looked at each other, and said we were going to just enjoy the evening, and that we did. We literally sat next to someone that was talking about Martha Stewart like they were best friends. They do have a bar in the restaurant, so if you want to get the experience while not eating dinner, it is a wonderful experience.
http://www.hotelhasslerroma.com/en/restaurants-bars/imago/